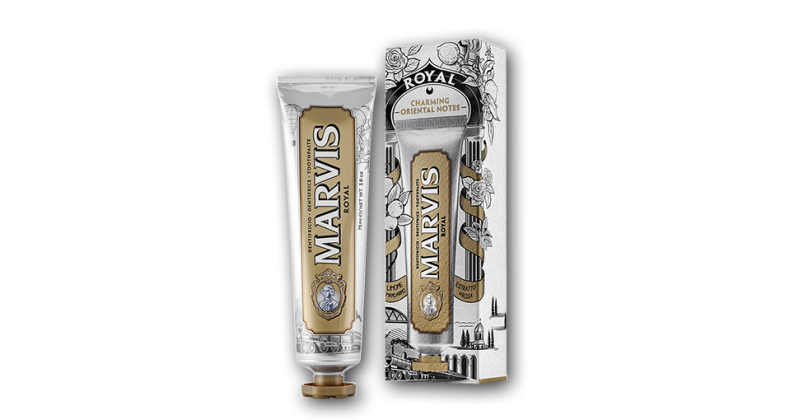 Elegant and luxurious trips on the Orient Express inspired the sophisticated and surprising flavor of Marvis Royal toothpaste.
DETAILS
With a unique, sophisticated flavor combining zesty Italian lemon oil, tangerines, fragrant rose extract, and nutmeg, the blend, enhanced with fresh mint, creates a luxurious sensation with an exhilarating, tangy taste. The signature Marvis formula leaves you with bright, protected teeth, and with brushing, aids in the prevention of tooth decay, tartar, and plaque.
Marvis toothpaste formulas are based on a traditional processing method that guarantees a dense, compact texture, maximum protection, and an extraordinarily bright smile. The flavors are created by offsetting the aroma of mint, combining unmistakeable freshness with innovative notes to offer you a long-lasting, pleasurable taste sensation.
Fluoride-free. Cruelty-free. Vegan. Made in Italy.
AVAILABLE SIZES
75 mL full size
INGREDIENTS
Glycerin, Aluminum Hydroxide, Aqua (Water/Eau), Silica, Aroma (Flavor), Cellulose Gum, Xylitol, Titanium Dioxide, Sodium Laurel Sulfate, Sodium Saccharin, Sodium Citrate, Citric Acid, Benzyl Salicylate, Linalool.
SUGGESTED PRICE
$10.50