Classic Strong Mint Toothpaste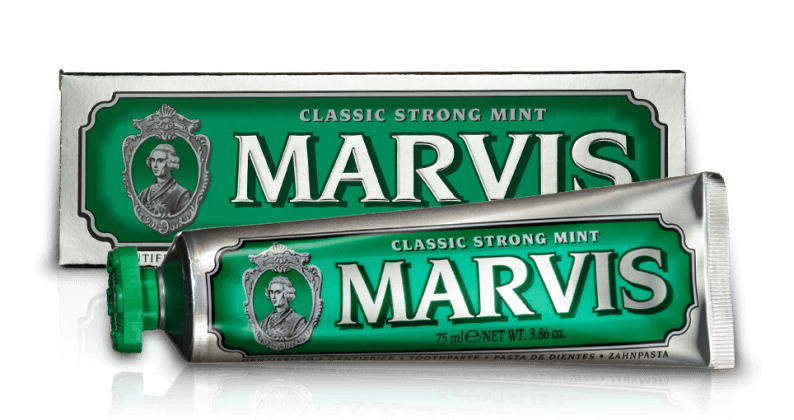 Lively, exuberant and unmistakable: Peppermint's freshness will give you an intense, prolonged, pleasurable sensation.
DETAILS
Intense, lively and unmistakable. The enticing peppermint flavor takes you to a new dimension of long-lasting freshness.
Marvis toothpaste formulas are based on a traditional processing method that guarantees a dense, compact texture, maximum protection, and an extraordinarily bright smile. The flavors are created by offsetting the aroma of mint, combining unmistakeable freshness with innovative notes to offer you a long-lasting, pleasurable taste sensation.
The Marvis Formula: white, protected teeth, long-lasting fresh breath, and with brushing, aid in prevention of tooth decay, tartar and plaque.
Fluoride-free. Vegan. Cruelty-free. Made in Italy.
AVAILABLE SIZES
75 mL full size, 25 mL travel size, and 10 mL trial size
INGREDIENTS
Glycerin, Aluminum Hydroxide, Aqua (Water/Eau), Silica, Aroma (Flavor), Cellulose Gum, Titanium Dioxide, Sodium Lauryl Sulfate, Sodium Saccharin, Sodium Citrate, Citric Acid, Eugenol, Limonene, Benzyl Alcohol.
SUGGESTED PRICE
$10.50 full size / $6.00 travel size / $2.00 trial size