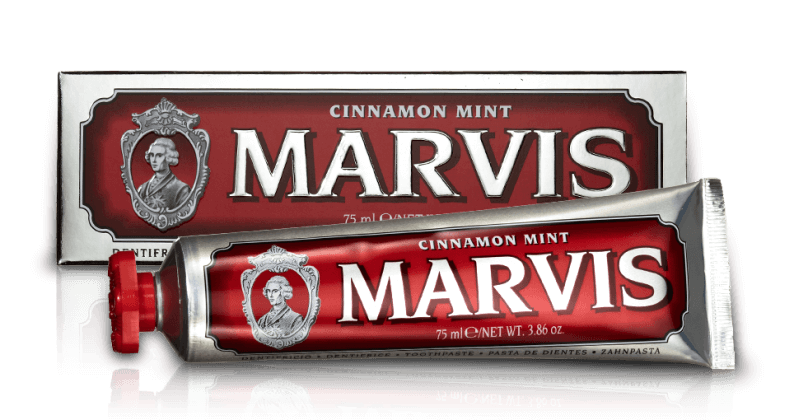 A lively, aromatic mixture that emits the tropics' luminosity. An original aroma that captivates at the first taste.
DETAILS
Cinnamon's exotic sweetness is enhanced by the sweetly refreshing taste of mint and a surprising, long-lasting aroma.
Marvis flavors are created by offsetting the aroma of mint, to provide the freshness you need, with innovative notes to offer you a long-lasting pleasurable taste sensation that can be different every day. The rich, creamy toothpaste offers a tingling sensation and removes plaque and tartar for a sparkling white smile.
The Marvis Formula: white, protected teeth, long-lasting fresh breath, and with brushing, aid in prevention of tooth decay, tartar and plaque.
Fluoride-free. Vegan. Cruelty-free. Made in Italy.
AVAILABLE SIZES
75 mL full size, 25 mL travel size, and 10 mL trial size
INGREDIENTS
Glycerin, Aluminum Hydroxide, Aqua (Water/Eau), Silica, Aroma (Flavor), Cellulose Gum, Titanium Dioxide, Sodium Lauryl Sulfate, Sodium Saccharin, Sodium Citrate, Citric Acid, Eugenol, Limonene, Cinnamal, Cinnamyl Alcohol, Benzyl Alcohol.
SUGGESTED PRICE
$10.50 full size / $6.00 travel size / $2.00 trial size