Protective Formula
The newest addition to the range, this long-awaited Proraso Pre-Shave Cream rounds out the Protect range. It softens the scruff and prepares the skin before shaving to enhance the razor's glide, help reduce irritation and, like an invisible shield, create an additional layer of protection between the skin and the blade.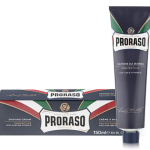 Protective & Moisturizing Formula
Proraso Shaving Soap is still made today in accordance with a rigorous, hot soap-making process, which results in a very rich soap that produces a thick lather. Our traditional, vegetable stearin-based formula is enriched with natural ingredients making it particularly concentrated and rich. Proraso Protective and Moisturizing Shaving Soap is ideal for a classic moisturizing shave.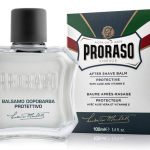 Protective & Moisturizing Formula
This protective and moisturizing After Shave Balm is a creamy, non-greasy formula that hydrates, tones and protects freshly shaved faces. This alcohol-free preparation is enriched with Vitamin E. It combines the benefits of a balsam working to prevent razor burn with the benefit of a moisturizing and protective cream formula.