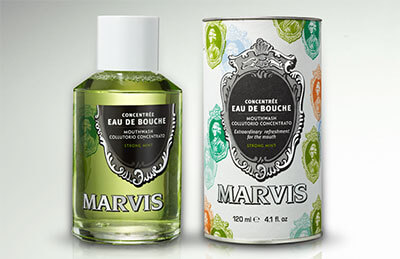 FRESHEN AND CLEAN WITH MARVIS MOUTHWASH CONCENTRATE STRONG MINT
THINK: Extraordinary Italian refreshment for your mouth
WHAT IT IS: The newest addition to the Marvis family, straight from Florence. This luxurious concentrated mouthwash energizes and cleans the entire mouth with a cool, sparkling peppermint sensation.  Italians are full of passion—for food, for life, and for love—and they never let their zest for garlic or cigarettes get in the way of a romantic kiss in the piazza. So, Florence's time honored, custom-blend toothpaste creators developed new Marvis Mouthwash Concentrate Strong Mint.
Crafted with the finest blend of invigoratingly strong peppermint and skillfully selected aromatic herbs, new Marvis Mouthwash Concentrate leaves only sparklingly fresh breath and a clean smile so you can enjoy la bella vita even if you've indulged in a crostini or two. This pampering cleaning experience features an alcohol free formula that leaves no burn, just long-lasting refreshment that's a pleasure for teeth and gums. Marvis Mouthwash also utilizes unique natural extracts like xylitol and propolis to protect teeth from bacteria and prevent cavities.
In addition to enjoying every moment, like true Italians, the makers of Marvis believe in celebrating every aspect of the senses, so Marvis Mouthwash Concentrate Strong Mint is also a beautiful treat for the eyes. The chic formula replaces clunky bottles with a small, beautiful glass vial available now at legendary apothecary shop C.O. Bigelow.
To use: Simply dilute one part Marvis Mouthwash in four parts water and rinse twice a day for 30 seconds after brushing.
WHAT IT COSTS: $22
–––
For More Information, Images or Samples:
MELISSA PALMIERI/COREY CONTRINO
TRACTENBERG & CO.
212.929.7979