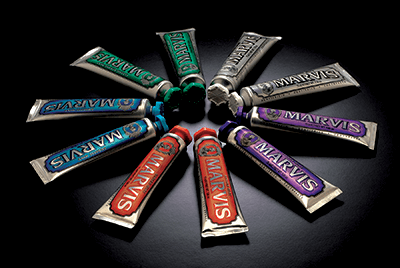 GET MOUTHWATERING FLAVORS FROM MARVIS TOOTHPASTE
THINK: Treat your mouth to an enticing new way to clean with Marvis Toothpaste
WHAT THEY ARE: Time honored Italian toothpastes in enticing flavors.
Housed in elegant metal tubes, Marvis toothpastes blend the aroma of mint with original notes for lasting freshness and taste sensation throughout the day. Each Marvis formula not only pampers the mouth with sensory indulgence, but also promises white, protected teeth free from tooth decay, tartar and plaque.
Drawing upon a legacy of unique yet effective, beautifully designed toothpastes, the Marvis collection includes:
Classic Mint: An enticing, stylish peppermint experience
Aquatic Mint: An ocean-breeze experience
Ginger Mint: A spicy breath-awakening flavorful experience
Jasmin Mint: A fashion forward fusion of flavor
Whitening Mint: Elevate your brush time with this cool mint flavor
Cinnamint: Cinnamon's warming sweetness meets the refreshing taste of mint for a long-lasting, invigorating aroma.
Amarelli Licorice: Made in collaboration with Amarelli—producing licorice since 1973—this classic flavor combines clean, seductive liquorices with the freshness of mint.
WHAT THEY COST: Full size $10.50, travel size $6
–––
For More Information, Images or Samples:
TRACTENBERG & CO.
MELISSA PALMIERI / COREY CONTRINO
212.929.7979