Capri Forget Me Not Parfum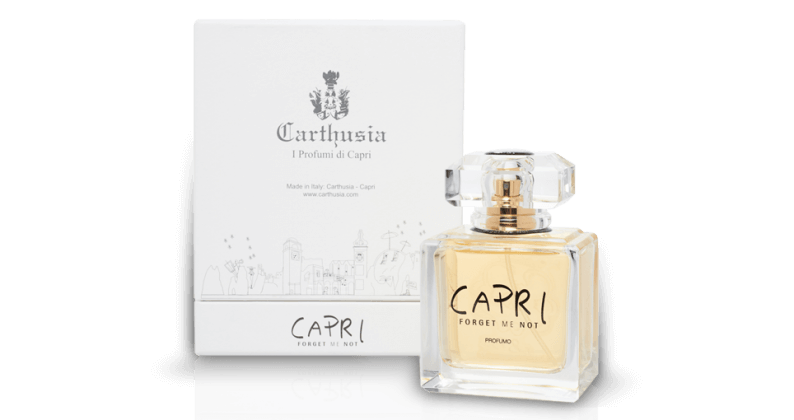 Juicy, sparkling, and truly unforgettable, this refreshing and illuminating scent echoes the sensuality of the island of Capri. With notes of green fig, orange peel, mandarin, Capri lemon, and infused with musk, jasmine, and refreshing mint, Forget Me Not sparkles like the island's crystal blue waters.
DETAILS
"Capri Forget Me Not" – In its name, a promise: do not forget Capri, the Capri of Bygone days that inspires and cherishes the new Carthusia Perfume.
The recollection of the second 'Belle Epoque', at the end of the 60's during which elegance, originality, the forces of Nature, lustfulness, musicality, warmth and vitality made Capri then what it is still today – an island of great charm. Don't forget Capri, but don't let Capri forget you either: a hearty and original perfume for the man or woman who doesn't wish to pass unnoticed.
An original perfume from a unique period, both one-of-a-kind, unforgettable in every way.
Olfactory Pyramid
Top: Lemon, Orange, Lime, Mandarin
Middle: Musk, Buchu, Mint, Fig, Violet, Eucalyptus
Base: Cyclamen, Hyacinth, Jasmine, Davana, Peach, Vanilla
Made in Italy.
AVAILABLE SIZES
50 ml (1.7 fl. oz.)
SUGGESTED PRICE
$150.00
INGREDIENTS
Parfum (Fragrance), Aqua (Water), Limonene, Alpha Isomethyl – Ionone, Coumarin, Linalool, Citral, Geraniol, Amyl Cinnamal, Benzyl Benzoate, Citronellol, Benzyl Salicylate, Hexyl Cinnamal, Eugenol, Anise Alcohol, Benzyl Alcohol, Farnesol.